Policy 5-112: Retirement
Purpose

To outline the University's policy toward retirement of Employees.

Definitions

"Employee" is defined in Policy 5-001.
"Faculty" is defined in Policy 5-001.
"Normal" retirement age means the age contemplated by University retirement programs at which University Employees are normally expected to consider retiring or to retire voluntarily either fully or on a phased retirement program.
"Phased Retirement Program" means an arrangement for early partial retirement, as embodied in a written contract between the University and the Employee.
"Retirement" means the full or partial termination of regular compensated service as an Employee concurrently with the initiation of the receipt of retirement benefit payments or annuities under an applicable retirement program.
"Staff" is defined in Policy 5-001.

Policy

General

The University administration regards the establishment and impartial administration of retirement plans, and the provision of annuities after retirement, as matters conducive to the progress and efficiency of the University and of interest to personnel of the University.
University Employees shall not be required to retire solely because of age; provided, however, that the University may require an Employee to retire if (a) the Employee holds a position for which age is a bona fide occupational qualification reasonably necessary to the normal operation of the University, (b) the decision to require retirement is based on reasonable factors other than age, or (c) retirement is required as a disciplinary sanction for good cause.
Either full or partial retirement on an optional basis may be arranged, with administrative approval, prior to or after the normal retirement age.
The "normal" retirement age for University Employees is 65 years, subject to paragraphs 2 and 3 above. Benefit programs for Employees 65 years of age or over may be modified within the limits authorized by state and federal law.

Faculty

After the commencement of retirement, there shall be no obligation on the part of the University to provide assistance in any form except as authorized through the University's retirement programs, provided that the University's administration may, at its discretion, employ from year to year, or for lesser periods, for part or full-time, any Faculty Members who have fully retired but whose services are needed by the University.
Appointments to emeritus status for retired Faculty Members and certain administrative officers are made by the Board of Trustees on recommendation of the president and vice president for academic affairs.

Staff

The hiring or extension of employment of Staff following full retirement may be authorized by the Chief Human Resource Officer for short-term (less than 30 days) employment when this employment is essential to the continued operation of the department. Requests for extension should be submitted by department supervisors to the Vice President for Human Resources. The request must present appropriate justification, and approval will be based on the needs of the University and the individual's physical status. Extensions will be approved only where continued employment is critical to the operation of the employing department, as, for example, where unusual skills are involved or where the skill is in short supply in the local market.

Procedures

The Benefits Office should be notified by the department head 90 days prior to an individual's proposed retirement date to facilitate initiation of retirement plan benefit payments and other arrangements relating to retired status.
Individual counseling is available through the Benefits Office to answer questions regarding retirement, social security, Medicare, and continuation or conversion of insurance coverage. Additionally, group preretirement training sessions are conducted each year for Faculty and Staff.

Benefits for Retired Employees

Faculty and Staff who, on or after their 60th birthday, commence full retirement after completing five years of continuous service for the University immediately prior to retirement will be entitled to the following benefits (for additional benefits for emeriti and their spouses, see paragraph 2, below):

Retiree I.D. card with a lifetime validation free of charge.
Bookstore discount.
Use of physical education facilities.
Use of those Union Building facilities requiring I.D. cards, such as movies, bowling, billiards, lectures, etc.
Discounts on athletic and theater season tickets and travel series tickets. Also, discounts for concerts in the Special Events Center.
Parking with purchase of appropriate sticker.
Borrowing privileges at University library facilities.
Reduced tuition of 50% on classes taken for credit to four hours per semester.
Continued membership in the University credit union.

Fully retired Employees holding appointments as emeriti, and their spouses, are entitled to the following benefits:

Emeritus I.D. card entitling the holder to (1) all privileges regularly available to holders of faculty I.D. cards, (2) discounts on purchases at the University bookstore and University of Utah Press, (3) reduced prices for season tickets to athletic events and Pioneer Memorial Theater programs, (4) Faculty privileges relating to participation in the campus recreation program, (5) golfing privileges on the University golf course on a reduced fee or limited complimentary basis, and (6) complimentary admissions to the Museum of Natural History.
Membership without charge in the University of Utah Faculty Club.
Enrollment in University classes without payment of tuition or fees, except as provided in Policy 5-305.
Campus parking privileges without charge.
Admission without charge to dress rehearsals of Pioneer Memorial Theater main stage productions.
Reduced price tickets, not to exceed two per game, for individual football and basketball home games, subject to availability of unsold seats.
Complimentary tickets, not to exceed two per event, to University Travel Club programs, and discounted admissions to other programs presented by the Lectures and Concerts Office of the Academic Outreach and Continuing Education.
Listing in the University general catalog and the University directory, and receipt of monthly publications of the University Office of Public Relations.
Eligibility to apply for and receive Faculty research grants from the University Research Committee.
Invitation to attend annual Faculty breakfast preceding autumn semester.
Use of office and laboratory facilities, but only to the extent such facilities can be made available by the cognizant department chairperson or dean within the limits of approved space allocations to the department or college.

Discount rates, fee or price reductions, and other limitations or conditions applicable to benefits described in paragraphs 1 and 2, above, shall be prescribed by the cognizant vice president, subject to change from time to time, without prior notice.

---

[Note: Parts IV-VII of this Regulation (and all other University Regulations) are Regulations Resource Information – the contents of which are not approved by the Academic Senate or Board of Trustees, and are to be updated from time to time as determined appropriate by the cognizant Policy Officer and the Institutional Policy Committee, as per Policy 1-001 and Rule 1-001.]

---

Rules, Procedures, Guidelines, Forms and other related resources.

Rules
Procedures
Guidelines
Forms
Other related resource materials.

References

Contacts

The designated contact officials for this Policy are:

Policy Owner (primary contact person for questions and advice): Director of Benefits for Human Resources.
Policy Officer: Chief Human Resources Officer


These officials are designated by the University President or delegee, with assistance of the Institutional Policy Committee, to have the following roles and authority, as provided in University Rule 1-001:
"A 'Policy Officer' will be assigned by the President for each University Policy, and will typically be someone at the executive level of the University (i.e., the President and his/her Cabinet Officers). The assigned Policy Officer is authorized to allow exceptions to the Policy in appropriate cases.... "
"The Policy Officer will identify an 'Owner' for each Policy. The Policy Owner is an expert on the Policy topic who may respond to questions about, and provide interpretation of the Policy; and will typically be someone reporting to an executive level position (as defined above), but may be any other person to whom the President or a Vice President has delegated such authority for a specified area of University operations. The Owner has primary responsibility for maintaining the relevant portions of the Regulations Library.... [and] bears the responsibility for determining -requirements of particular Policies...." University Rule 1-001-III-B & E

History

Editorially revised: October 11, 2011

Editorial changes were made to this document to reflect the changes in Employee definitions as set forth in Policy 5-100.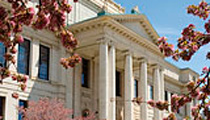 View All Policies by
Past Versions