[Interim] University Policy 1-012: University Non-discrimination Policy.
Revision 3. Effective date: August 14, 2020
Purpose and Scope

Purpose. The University of Utah ("University") is committed to providing and fostering an environment that is safe and free from prohibited Discrimination. This is the primary Policy that informs the University community of the University's commitment to preventing prohibited Discrimination and fostering an academic, employment, and healthcare environment that is free from prohibited Discrimination, including Harassment and Sexual Misconduct.

Scope. This Policy applies to all academic and administrative units of the University, and to all members of the University community, including faculty, staff, students, patients, visitors, and participants in University programs or activities. This Policy is intended to be implemented through a set of associated University Regulations (Rules, Procedures, and Guidance). The application of this Policy's associated Regulations to staff who are also students, such as teaching assistants, research assistants, Medical Housestaff, or other University staff members who are also enrolled as students in a graduate education or other degree program, will be determined by the respective roles of those involved in any alleged violation.

Definitions

For purposes of this Policy, the definitions of prohibited Discrimination, Harassment, Sexual Misconduct, and other words and phrases used in this Policy and its associated Regulations are provided in Rule R1-012.

Non-discrimination Policy.

The University of Utah does not discriminate against individuals on the basis of race, ethnicity, color, religion, national origin, age, disability, sex, sexual orientation, gender, gender identity, gender expression, pregnancy, pregnancy-related conditions, genetic information, or protected veteran status ("protected class"), in employment, treatment, admission, access to educational programs and activities, or other University benefits or services. Additionally, the University provides reasonable accommodations to ensure equal access to qualified persons with disabilities.

Retaliation against individuals for engaging in activities protected under this Policy is prohibited. No person may intimidate, threaten, coerce, or discriminate against any individual for the purpose of interfering with any right or privilege protected under this Policy or because the individual has made a report or complaint, testified, assisted, or participated or refused to participate in any manner in an investigation proceeding or hearing under this Policy or its associated Regulations.

If any other University Regulation is inconsistent with the provisions herein, this Policy and its associated Rules shall govern.

Inquiries regarding the University's Non-discrimination Policy and associated Regulations, and requests for accommodations may be referred to:

Director, Office of Equal Opportunity and Affirmative Action

Title IX/ADA/Section 504 Coordinator

383 University Street, Level One OEO Suite

Salt Lake City, UT, 84112

801-581-8365 (voice)

801-585-5746 (fax)

[Note: Parts IV-VII of this Regulation (and all other University Regulations) are Regulations Resource Information – the contents of which are not approved by the Academic Senate or Board of Trustees, and are to be updated from time to time as determined appropriate by the cognizant Policy Officer and the Institutional Policy Committee, as per Policy 1-001 and Rule 1-001.]

Rules, Procedures, Guidelines, Forms and other Related Resources

Rules

Procedures

Forms

[reserved]

Other related resource materials

[reserved]

References

20 U.S.C. § 1092(f)

20 U.S.C. § 1681 et seq.

29 U.S.C. § 794 et seq.

42 U.S.C. § 2000d et seq.

42 U.S.C. § 2000e et seq.

42 U.S.C. § 6101 et seq.

42 U.S.C. § 12112

42 U.S.C. § 12132

42 U.S.C. § 18116

34 C.F.R. § 668.46 Institutional Security Policies and Crime Statistics

Utah Code Ann. § 76-5-106.5 Stalking—Definitions—Injunction—Penalties

Utah Code Ann. § 76-5-402 to -405 Sexual Offenses

Utah Code Ann. § 76-5-406 Sexual offense against the victim without consent of victim—Circumstances

Utah Code Ann. § 76-5b Sexual Exploitation Act

Utah Code Ann. § 76-9-702.7 Voyeurism offenses—Penalties

Utah Code Ann. § 77-36-1 Definitions

Utah Code Ann. § 78B-7-402 Definitions

Utah Board of Higher Education (formerly Board of Regents) Policy No. R256: Student Disciplinary Processes

Utah Board of Higher Education (formerly Board of Regents) Policy No. R831: Minimum Requirements for Non-Faculty Staff Employment Grievances Policy

Utah Board of Higher Education (formerly Board of Regents) Policy No. R841:Minimum Requirements for Disciplinary Sanctions and Termination of Staff Personnel

Policy 1-004: Violence in the Workplace and Academic Environment

Policy 1-011: Campus Security

Rule 1-012: Discrimination Complaint Rule

Rule 1-012A: Discrimination Complaint Process Rule

Rule 1-012B: Sexual Misconduct Complaint Process Rule

Policy 1-020: Required Professional Boundaries in Relationships

Policy 5-106: Equal Opportunity and Non-discrimination Employment

Policy 5-117: Americans with Disabilities Act (ADA) Policy

Policy 5-203: Staff Employee Grievances

Policy 6-011: Senate Consolidated Hearing Committee

Policy 6-316: Code of Faculty Rights and Responsibilities

Policy 6-400: Code of Student Rights and Responsibilities

Contacts

The designated contact officials for this Policy are:

Policy Owner (primary contact person for questions and advice): Office of Equal Opportunity and Affirmative Action

Policy Officer: Vice President and General Counsel

These officials are designated by the University President or delegee, with assistance of the Institutional Policy Committee, to have the following roles and authority, as provided in University Rule 1-001:

"A "Policy Officer" will be assigned by the President for each University Policy, and will typically be someone at the executive level of the University (i.e., the President and Cabinet Officers). The assigned Policy Officer is authorized to allow exceptions to the Policy in appropriate cases. "

"The Policy Officer will identify an "Owner" for each Policy. The Policy Owner is an expert on the Policy topic who may respond to questions about, and provide interpretation of the Policy; and will typically be someone reporting to an executive level position (as defined above), but may be any other person to whom the President or a Vice President has delegated such authority for a specified area of University operations. The Owner has primary responsibility for maintaining the relevant portions of the Regulations Library. [and] bears the responsibility for determining which reference materials are helpful in understanding the meaning and requirements of particular Policies. "

University Rule 1-001-III-B & E

History

Renumbering: Not Applicable
Revision History:
Current Version. This Interim Policy Revision 3 was put into effect on August 13, 2020 by University President Ruth Watkins, after consultation with the Academic Senate Executive Committee July 13, 2020, and presentation to and approval of the Executive Committee of the Board of Trustees August 17, 2020. It was subsequently presented for the Information and Recommendations of the Academic Senate, August 31, 2020. It was enacted as an Interim revision (in accord with Policy 1-001) in order to comply with recently changed federal regulations. It will remain in effect until a permanent version is adopted, which is anticipated to occur by August 14, 2022 after review by appropriate internal University groups.
Editorial revisions to current version: Editorially revised March 17, 2022 to update OEO's address.
Legislative history of Interim Revision 3.
B. Earlier Versions
Revision 2. Approved by the Academic Senate: January 9, 2017. Approved by the Board of Trustees: February 14, 2017 with the designated effective date of February 14, 2017.
Legislative History of Revision 2.
Revision 1. Effective dates: October 1, 2014 to February 14, 2017.
Revision 0. Effective dates: January 10, 2011 to October 1, 2014.
C. Policy 5-210. This Policy 1-012 as of February 2017 replaced Policy 5-210 as the primary University Policy applicable to complaints of Discrimination.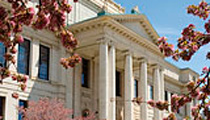 View All Policies by
Past Versions