Policy 6-308: Grievances
Revision 5. Effective date: April 9, 2007.
Purpose and Scope

(Reserved)

Definitions

(Reserved)

Policy

Should differences arise between members of the academic community the aggrieved faculty member shall be privileged to have the case reviewed by the appropriate administrative authorities. Thereafter, the faculty member shall have the right to bring the matter to the attention of the Academic Freedom and Faculty Rights Committee. See Policy 6-002, Section 11.
This section shall not be applicable to differences concerning retention, tenure, or promotion. See Faculty Regulations, Section 4 Policy 6-002, Section 1
The former Faculty Regulations Chapter V Section 8 -- Requests for Opinion--has been moved to Policy 6-002, Section 11 [AFFRC] and altered.

Rules, Procedures, Guidelines, Forms and other related resources

Rules
Procedures
Guidelines
Forms
Other related resource materials

References:

(Reserved)

Contacts:



The designated contact officials for this Regulation are

Policy Owners

(primary contact person for questions and advice)

: Associate Vice President for Faculty and Associate Vice President for Health Sciences.
Policy Officers: Sr. Vice President for Academic Affairs and Sr. Vice President for Health Sciences.



See University Rule 1-001 for information about the roles and authority of policy owners and policy officers.

History:

Renumbering: Renumbered as Policy 6-308 effective 9/15/2008, formerly known as PPM 9-5.5 Sections 7 & 8 , and previously as Faculty Regulations Chapter V - Sections 7, 8.

Revision History:

Current version: Revision 5.

Approved by – Academic Senate April 2, 2007, and Board of Trustees April 9, 2007, with the effective date April 9, 2007.
Editorially revised Oct. 10, 2008
Editorially revised to remove gendered language on April 19, 2022.
Legislative History of Revision 5

Earlier versions:

Revision 4. Effective dates May 12, 1980 to April 9, 2007.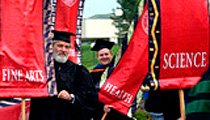 ---
---