Policy 5-308: Benefits Eligibility Chart
For copies of or questions regarding the benefits eligibility chart, contact the human resources department, or see page 1 of the chart.
Contact
Policy Owner: Questions about this Policy and any related Rules, Procedures and Guidelines should be directed to the Director of Benefits for Human Resources.
Policy Officer: Only the Chief Human Resource Officer or his/her designee has the authority to grant exceptions to this Policy.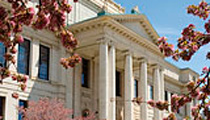 Policy: 5-308 Rev: 4
Date: August 14, 1990