Policy 5-304: Other Benefits
Purpose

To outline other benefits, such as service and recreational benefits, available to University Employees, and establish policies toward each.

References

Policy 5-001: Employment Definitions

Definitions

Policy

Service Benefits

Bookstore

All Employees issued a pictured uUniversity I.D. card are granted a discount of 10 percent on most nontextbook items purchased from the bookstore.Employees must present their identification card when making bookstore purchases.

Credit Union

All Employees, including Full and Part-time Faculty, and Staff Members, and their eligible family members, are eligible to participate in the University of Utah Employee's Credit Union, a cooperative society organized under a state charter which provides Employees with a systematic savings plan and lending services. Additional information may be obtained from the Credit Union Office.

Library Privileges

University Employees issued a valid university I.D. card are entitled to library privileges and are encouraged to use them. All books borrowed are subject to library regulations.
Fines for overdue and lost material, if not resolved by payment, consultation with library staff, or reviewed by the Library Policy Advisory Committee, will be deducted from Employee paychecks.

Medical Services

Students, Faculty, and Staff Members may consult school of medicine faculty doctors by requesting an appointment directly or on referral from a community physician. In an emergency, the University hospital emergency room is available at any hour of the day or night.
Selected health care services, such as immunizations, blood pressure checks, and treatment of other minor health problems are provided to University Employees by the Student Health Service on a fee for service basis.

Recreational Benefits

Campus Recreation Services Department

Recreation facilities for both indoor and outdoor sports are available for use by University Employees with valid I.D. cards, and their families, subject to payment of approved fees. Information relating to use of or participation in the intramural, outdoor, and informal open recreation programs may be obtained from the Campus Recreation Services Department. Arrangements for use of these facilities and programs, as well as reservations for the open recreation use of the HPER Complex, Fieldhouse, and court sports may be made at the Einar Nelson Fieldhouse Office.

Union Building Activities
Union Building activities such as bowling, table tennis, billiards, chess, and movies are available to all University Employees at current rates.

Ticket Discounts

Employees with valid I.D. cards may purchase reserved seat tickets for athletic events and University Theatre productions at established discounts provided that such tickets are purchased for the entire season of events and/or productions.
The University Travel Club offers ticket discounts to Employees with a valid I.D. card
Reduced admission to selected events at the Special Events Center, lectures, and concerts is available to Employees with a valid I.D. card.
Ticket discounts for local movie theatres and sports events are available at the Union Building information desk and the bookstore service desk.

Contacts

Policy Owner: Questions about this Policy and any related Rules, Procedures and Guidelines should be directed to the Director of Benefits for Human Resources.

Policy Officer: Only the Chief Human Resources Officer or his/her designee has the authority to grant exceptions to this Policy.

History

Editorially revised: October 11, 2011

Editorial changes were made to this document to reflect the changes in employee definitions as set forth in Policy 5-100.
Approved: Board of Trustees 5/17/99
M02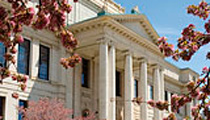 View All Policies by
Past Versions